California dream turns into nightmare
http://www.ft.com/cms/s/0/c8b15014-fd26-11dd-a103-000077b07658.html?nclick_check=1
By Matthew Garrahan in Los Angeles
February 17, 2009
In Contra Costa County, a few miles from San Francisco and the millionaires of Silicon Valley, widespread poverty has returned to California.
Buffeted by a housing collapse and a slumping economy, the county of 1M is struggling to cope with a sharp rise in the number of residents seeking welfare assistance.
Applications for food stamps – vouchers for low-income earners that can be used to buy food – have risen 65 per cent in the county in the past year. There has been a similar jump in the number of applications for Medi-Cal, which provides health services for the poor, and other welfare programmes.
Like the rest of the Golden State, Contra Costa is fighting a battle on two fronts.
Demand for welfare assistance is rising as the US recession tightens its grip. But the county's ability to support its residents is being hindered by a spending freeze tied to California's projected $42bn (€32bn, £29bn) budget deficit – the biggest in the US.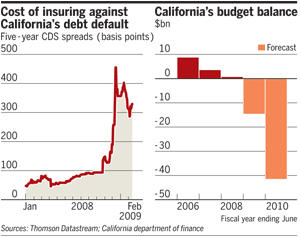 The state has slashed funding for social programmes and postponed thousands of infrastructure projects – such as school, hospital or highway developments – worth more than $21bn. The projects have been put on ice while legislators try to address the shortfall.
Lawmakers have spent the past four days locked in the state's capitol building in Sacramento to hammer out a budget deal that would raise about $14bn from new taxes and cut spending by a similar amount. A proposal backed by Arnold Schwarzenegger, California's governor, and state Democrats is one vote shy of being passed.
With the pressure for a new budget mounting, Mr Schwarzenegger on Tuesday began making good on a promise to cut 10,000 jobs from the state's payroll in an attempt to preserve cash.
In Contra Costa the spending freeze could not have come at a worse moment. "We have had to cut 200 positions and at the same time there has been a huge increase in the number of people seeking help," says Joe Valentine, director of the employment and human services department in the county.
Many of those seeking assistance are unused to the experience, he says. "We call them the 'newly poor'. We had a man come in recently who had been a carpenter for 20 years. He had just been laid off and then lost his house."
California has traditionally been the most prosperous state in the US, but the urgent need to address its budget deficit is exacerbating the impact of the recession on its 36m residents.
The state is in line for a federal bail-out and may receive up to $26bn from the economic stimulus package that passed last week. But the long delay in implementing a new budget has spooked Wall Street and seen California's credit rating cut to the lowest of any US state. This has made it impossible to sell bonds that are supposed to finance billions of dollars of public works projects that have already been approved by voters.
Some of those projects, such as the redevelopment of schools and prisons, have been put on ice until a budget can be agreed.
"We have really slowed down and have probably let go 150 carpenters and labourers," says Terry Street, chief executive of Roebbelen Contracting, a Sacramento-based company that has worked on several public projects.
His company was ordered to stop work on a $20m mental health facility that was close to completion and also had to halt construction of a school east of Sacramento.
Postponing these projects is heaping more misery on California's once-booming construction sector. Unemployment in the state is running at almost 10 per cent but among building workers it is nearer 20 per cent, according to Jim Earp, of the California Alliance for Jobs, which represents contractors and 80,000 workers.
There are also doubts about the state's ability to continue providing welfare assistance. In Los Angeles County, home to some 10m people, there was a near 25 per cent jump in applications for homeless assistance between June and September last year.
"My members got into this business because they wanted to help people," says Cathy Senderling-McDonald, of the County Welfare Directors Association of California. "So many families need help ... but there is a big gap between what we can offer them and what they need."
Copyright The Financial Times Limited 2009