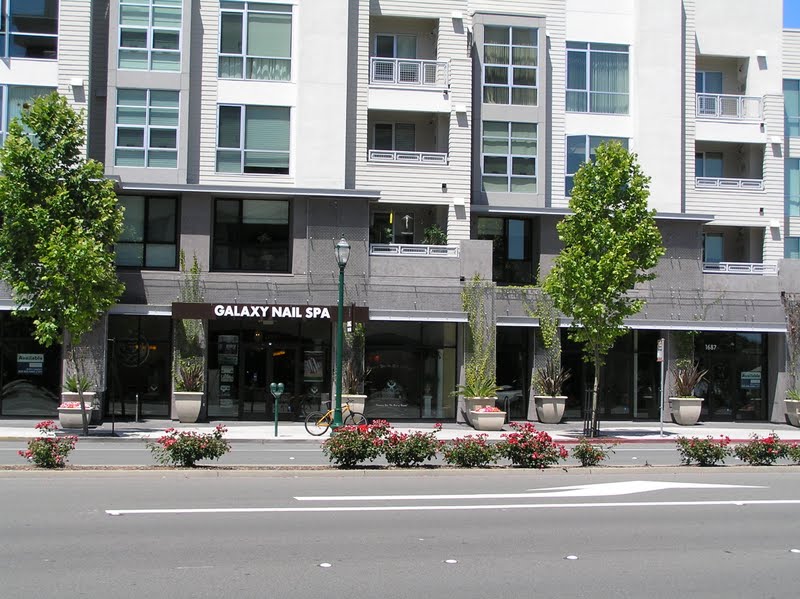 <<SMART GROWTH HIGH DENSITY HOUSING
Barnidge: Resentment is building over development in Lafayette and Danville
http://www.contracostatimes.com/news/ci_22116721/barnidge-resentment-is-building-over-development-lafayette-and?nstrack=sid:715052|met:0000300|cat:0|order:22&%2F%3Fsource=dailyme
By Tom Barnidge Contra Costa Times Columnist
12/04/2012
Inasmuch as the world is going to end in a few weeks -- you won't need a day planner after Dec. 21 -- the emails I've recently received may not be all that important, but they convey some serious resentment over development plans for two upscale East Bay communities.
In Lafayette, the outrage is over a flurry of new construction projects that include an apartment complex, condominiums, townhomes, senior residences and a luxury residential development.
"The clear majority of Lafayette residents oppose the downtown development that is being foisted upon us by a City Council that has lost touch with its residents," Eliot Hudson wrote.
"Those many residents who have opposed such planning are repeatedly frustrated by the consistent failure of news reporting to accurately reflect the depth and breadth of estrangement between involved residents and the city."
So he's not only ticked off at stupid officeholders ruining his town, he's ticked off at stupid journalists.
Another writer, whose subject line was concise -- "The rape of Lafayette" -- said he doesn't even live in the city but hates what's happening to it.
Folks in Danville aren't any happier, as witnessed by a turnout of more than 200 last week at a Planning Commission meeting that usually commands the attention of a quilting bee. Residents weren't there to applaud the commissioners. At issue is the proposed rezoning of 10 downtown acres to accommodate higher density,
low-income residences, per state housing requirements.
"I myself am not opposed to development," wrote Heather Gass, "as long as it is done responsibly, with private money and market driven. However, everything in this plan is about government regulation and control.
"Why aren't we allowed to grow our local cities the way we want to? Why are we being forced to up-zone our towns?"
The convoluted answer touches on SB375 (the Sustainable Communities and Climate Protection Act designed to reduce greenhouse gas emissions), the California Department of Housing and Community Development (committed to preserving affordable housing), the Regional Housing Needs Allocation (targeting residential growth figures) and the Association of Bay Area Governments (that assigns communities those numbers).
The government is a master of streamlining, isn't it?
The Lafayette and Danville projects are alike only in the resistance they've met. Lafayette's are largely driven by private developers who see money to be made. The city can't refuse to review their applications. Danville's proposal is dictated by arcane regulations intended to ensure "smart growth" in case the Mayan forecast of doom fizzles out.
From the ABAG website: "Plans for housing must include sufficient affordable units so that people don't have to commute from homes outside the Bay Area to jobs within the region. The goal is more livable communities, offering more housing and transportation choices, a higher quality of life and a vibrant economy."
You can see why Danville residents might balk. Their community is plenty livable, thanks. It's neither a job center that attracts commuters nor a hub of transportation alternatives. And if you don't think its economy is vibrant, check out the real estate prices. The well-intended state regulations seem a little out of place.
The natives are restless in Lafayette and Danville, and it's not because of the Mayan forecast.
Contact Tom Barnidge at tbarnidge@bayareanewsgroup.com
___________________________________________________________________________________________
Danville residents object loudly to low-income housing
By Jason Sweeney: jsweeney@bayareanewsgroup.com
11/28/12
"Town Attorney Rob Ewing said state law trumps town ordinances and that failure to comply with state housing requirements would bring fiscal and legal penalties."
http://www.contracostatimes.com/ci_22084270/danville-residents-object-loudly-low-income-housing
Discontent was in the air at a public hearing on an environmental impact report that addresses proposed updates to the town's general plan.
A crowd of about 200 packed into the Danville Community Center and more than 20 speakers told the town's planning commission to essentially leave well enough alone.
Elon Ornsby, a longtime Fremont resident before moving to Danville, said over a 20-year period he saw Fremont transform from a rural community to "a festering cluster of humanity."
"I left that to come to Danville," he said, adding that the new plan would turn Danville into Fremont. "You're starting down a slippery slope."
The updated general plan, called the Danville 2030 General Plan, will be addressed at a series of hearings beginning Dec. 11.
The purpose of Tuesday's hearing was to get public feedback on possible environmental impacts any changes to the general plan might cause, not on the new general plan itself.
But most speakers were there to oppose changes that would increase high-density, low-income housing in town.
To meet state housing requirements, Danville's updated general plan proposes designating at least 9.6 acres around town for higher density, low-income housing.
Throughout the night, statements of opposition to the plan were met with applause and cheers.
"I have a great idea for you guys," town resident Charles Reyna said, regarding the mitigation of greenhouse gases as addressed in the EIR. "Why
don't you just stop building on every patch of land available?"
Some of the crowd's discontent was aimed at the Association of Bay Area Governments, that calculates housing needs for 101 jurisdictions in the Bay Area.
ABAG "is an unelected body that is creating a nine-county general plan that is a cookie cutter solution that creates high-density, low-income housing in all nine Bay Area counties," Danville resident Heather Gass said. "This is not about the environment. I've been going to these hearings for two years and they've been telling us that in order to save the planet we need to get out of our single-family residential homes, out of our cars, and we need to create high-density stack-and-pack housing everywhere in all communities."
"ABAG is telling us if you want your transportation money you will remake Danville into a high-density area," former U.S. Congressman and Danville resident Bill Baker told the commission. "You're being asked by your community here tonight almost without exception to resist this, to say no to it, not to go along with it."
Town Attorney Rob Ewing said state law trumps town ordinances and that failure to comply with state housing requirements would bring fiscal and legal penalties.
Contact Jason Sweeney at 925-847-2123. Follow him at Twitter.com/Jason_Sweeney .
________________________________________________________________________________
Barnidge: Quaint, little Lafayette is bracing for some big changes
By Tom Barnidge Contra Costa Times Columnist
11/29/2012
http://www.contracostatimes.com/news/ci_22084429/barnidge-quaint-little-lafayette-is-bracing-some-big
What image pops into your head when you envision downtown Lafayette?
A quiet village, with tree-lined streets, that would make Norman Rockwell smile?
A bedroom community, dotted with fine shops and restaurants, where people move to escape the city?
A bustling suburb, with too many cars and too little parking, that could use high-density housing and mass-transit solutions?
If you can't decide, don't worry. Not even the residents can agree.
During a Monday night City Council hearing on the proposed 72-unit Town Center Condominium project near the BART station -- "behind the Panda Express," as locals say -- residents who spoke took turns debating the essence of their community.
"We live in Lafayette, as opposed to Walnut Creek or near the Pleasant Hill BART station, because we like its semirural feeling," said one man opposed to the project.
"I hear people talk about semirural living," said another. "This site is on a freeway and a mass transit station. This is an urban location. It deserves an urban solution."
Twenty-five residents spoke across an hour and 20 minutes -- more opposed than in favor of the project -- but most striking were the differences in their visions for the community.
One saw the proposed four-story, 55-foot-high residence as a "big, ugly building" that would block majestic views of the ridgeline. Another saw it as a "beautiful" solution for those wanting to downsize and shed their dependence on automobiles.
Lafayette was settled in 1848 and incorporated in 1968, but perhaps at no other time has it experienced the growing pains it is confronting now.
Five residential projects along Mt. Diablo Boulevard are in various stages of planning and development. They range from row-house town homes to senior residences to midrange and luxury condos, numbering more than 700 units in all. Plus, a 315-unit apartment complex, Terraces of Lafayette, is proposed for a hilltop south of Deer Hill Road.
Quaint little Lafayette seems to be bracing for population explosion.
"This is a town that's not accustomed to growth," City Manager Steven Falk said. "There was rapid growth from 1950, when we had 5,000 residents, to 1965, when we had 19,000. But then we plateaued at about 24,000, and we've been like that for years."
Falk knows his numbers: The town's population in 2000 was 23,908; in 2010, it was 23,893.
Many residents at Monday's meeting clearly were alarmed by what lies ahead. They presented a laundry list of concerns they foresee in a more densely populated Lafayette: overcrowded schools, obscured views, traffic jams, parking woes.
"I think we have to focus on the number of projects going up on Mt. Diablo Boulevard," one woman said. "We have heard there will be no impact on traffic. But if you look at the whole picture of five projects, how much traffic will there be?"
The reasons behind this phenomenon are open for debate, but Falk thinks Lafayette has become a development target at least partly because of its highly regarded school system.
"Because Lafayette voters have stepped up and funded the schools, housing developers are now rushing the doors," he said. "People who value education are interested in moving here. Developers see the chance to make money."
It's no surprise some residents are resistant to change. But they're going to find out change is a persistent thing.
Contact Tom Barnidge at tbarnidge@bayareanewsgroup.com.