INCOMING MAYOR DELLUMS HAS NO $$$ FOR LEFTY PROGRAMS!!
"That's because, for all intents and purposes, Oakland is now one vast redevelopment zone..."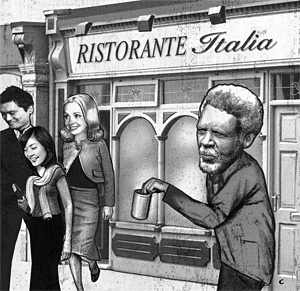 http://www.eastbayexpress.com/Issues/2006-10-04/news/cityofwarts.html
You just know incoming Mayor Ron Dellums wants to do big things in Oakland. He'll want to create more job training and antipoverty programs. He'll salivate at the prospect of hiring more health workers and librarians, making sure poor kids in the ghetto are inoculated and have a place to hang after school, far from the gangs and drug dealers that stalk their streets. For God's sake, the man wants to create "universal health care" in Oakland. Finally, his supporters imagine, this city will realize its dream of being a leftist utopia, reflecting the values of its most progressive residents.
Don't count on it. The sad fact is that there's no money to finance lefty programs. Well, that's not exactly right. There's plenty of money: $4.9 billion over 45 years, in fact. But aside from a few dollars, Dellums and his supporters won't be able to touch it.
That's because, for all intents and purposes, Oakland is now one vast redevelopment zone, a legal means of redirecting tax money and focusing it almost exclusively on building capital improvements and major construction projects. Between 2000 and 2003, the Oakland City Council created four new redevelopment zones, mostly in West Oakland and a swath of East Oakland that runs to the San Leandro border. In so doing, they set aside a vast pool of future tax dollars that otherwise would have been spread among the city, the county, AC Transit, and other government agencies. Now, that money can be used only for capital improvement and construction projects. Not one penny can be spent on salaries for cops or doctors at the county hospital. Instead, it will compensate developers who build housing or commercial projects, and a substantial amount will go to brokers and lenders in the form of interest and commissions. Dellums may be the new mayor, but he's inherited a city that in many ways is locked on a single course for the next half-century.
Because of the complexities of the redevelopment procedure, few people appreciate how much public money is at stake. But here's a crude sketch of what the city council has done in the last few years. Before the council created the West Oakland redevelopment zone, for example, the neighborhood's property taxes were distributed to a wide variety of agencies; Alameda County got $1.3 million to run the county hospital and other services, AC Transit got $426,877 to run the buses, etc. Now, all future increases in West Oakland property tax revenue will be shunted into a special pot of money. A quarter of that will be passed through to the county, the city, and the schools, but the rest will be reserved to build hotels, shopping malls, low- or moderate-income housing, or whatever else redevelopment managers decide will revitalize a blighted neighborhood. Often, the Redevelopment Agency borrows against this future revenue, and the interest on its debt is severe. Of the $74.4 million in redevelopment money raised for 2005-6, $20.6 million will be spent retiring old debt.
When most people think of redevelopment zones, they tend to focus on the power to seize property via eminent domain. Fewer appreciate the other great downside: Every dollar spent on construction is a dollar not spent on other equally important services, and when cities overemphasize redevelopment, they can starve critical governmental functions. According to Alameda County Supervisor Keith Carson, Oakland's redevelopment zones deprived the county of more than $69 million last year, more than enough money to solve Highland Hospital's financial problems. About a decade after San Jose set aside $3.5 billion in redevelopment money, that city now has the worst roads of any major American city, according to a report by the transportation research group TRIP. In case you were wondering, Oakland's roads already are third-worst — and the impact of its redevelopment is only just beginning to be felt.
Last weekend, Orange County supervisor and longtime redevelopment critic Chris Norby moderated a conference on the misuse of redevelopment zones at the San Francisco Airport Hilton, where he listed Oakland as easily the worst abuser of redevelopment authority in California. "Oakland has jumped way ahead of San Jose," he says. "San Jose used to be the mother of redevelopment abuse, but now Oakland is the father, I guess." Norby claims that redevelopment actually works contrary to progressive values, starving programs for the poor and giving the money to developers who can't get loans from the banks. "It's a form of corporate welfare," he snarls. "Wal-Mart alone nationwide has gotten over $1 billion in tax increment subsidies. ... And it doesn't work. You look at these redevelopment projects; my God, San Jose has been redeveloping for decades, and all you get are hotels that are empty, malls that can't attract customers."
In addition, Norby notes that small cities such as Emeryville have remade themselves into redevelopment zones for the express purpose of stealing sales-tax dollars from larger metropolitan areas. Even though the inner cities are more prone to blight — the ostensible reason for redevelopment in the first place — the 'burbs are inventing blight in order to concentrate shopping malls and deprive older cities of critical centers of social and economic life. "Increasingly, it's used by prosperous suburban ring cities to raid the coffers of the older urban core cities and lure retail development," Norby says.
One other dynamic bears mentioning. As more and more Oakland tax dollars are set aside for capital projects, the cost of financing basic city services will increasingly fall to the residents of those neighborhoods that aren't redevelopment zones — basically Rockridge and the Oakland hills.
According to Councilwoman Nancy Nadel, such criticisms ignore the upside. The City of Oakland reserves 25 percent of its redevelopment budget for the construction of low- and moderate-income housing, for example, and her district is teeming with urban decay that can't be repaired without a substantial concentration of funds. "In West Oakland, I established the redevelopment area there because we did not have the capital to address the blight," she says. As for the other government services that lost out, she says, "I weight the need for affordable housing and more industry and jobs to come to the area as a higher priority."
But Supervisor Carson is beginning to question whether Oakland has gone too far. "Not only does it tie Ron's hands as incoming mayor, it further looks like the money that could come back to services seems to be tied up," he says. "Cities are moving away from the initial reason for redevelopment, which is not to be a cash cow for cities, but it was supposed to be an opportunity to help not only revitalize areas, but stimulate other tax dollars that could come back in terms of services. It seems to be counterintuitive to that."
Dan Lindheim, who has been running the transition team for the Ron Dellums administration, refused to comment for this story. But when Dellums was elected, he promised a new era of progressive values and priorities, a radical departure from the way the city had conducted business in the last eight years. It now appears that the city will be locked into business as usual.