Don't Bet Against The (Single-Family) House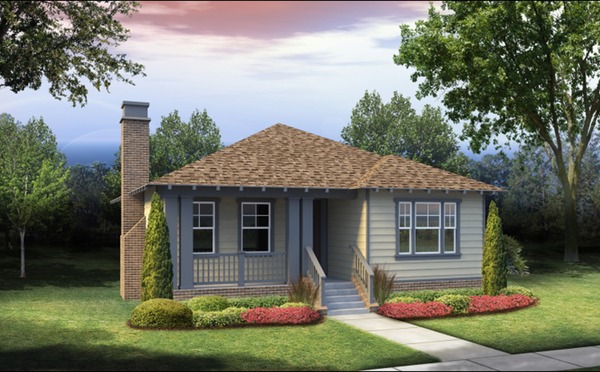 2/28/12
http://www.forbes.com/sites/joelkotkin/2012/02/28/home-depot-lowes-lennarsingle-family-house/
Nothing more characterizes the current conventional wisdom than the demise of the single-family house. From pundits like Richard Florida to Wall Street investors, the thinking is that the future of America will be characterized increasingly by renters huddling together in small apartments, living the lifestyle of the hip and cool — just like they do in New York, San Francisco and other enlightened places.

Many advising the housing industry now envisage a "radically different and high-rise" future, even though the volume of new multi-unit construction permits remains less than half the level of 2006. Yet with new permits at historically low levels as well for single-family houses, real estate investors, like the lemmings they so often resemble, are traipsing into the multi-family market with sometimes reckless abandon.
Today the argument about the future of housing reminds me of the immortal line from Groucho Marx: Who are you going to believe, me or your lyin' eyes? Start with the strong preference of the vast majority of Americans to live in detached houses rather than crowd into apartments. "Many things — government policies, tax structures, financing methods, home-ownership patterns, and availability of land — account for how people choose to live, but the most important factor is culture," notes urban historian Witold Rybczynski.
Homeownership and the single-family house, Rybczynski notes, rests on many fairly mundane things — desire for privacy, need to accommodate children and increasingly the needs of aging parents and underemployed adult children. Such considerations rarely enter the consciousness of urban planning professors, "smart growth" advocates and architectural aesthetes swooning over a high-density rental future.
Just look at the numbers. Over the last decade— even as urban density has been embraced breathlessly by a largely uncritical media — close to 80% of all new households, according to the American Community Survey, chose to settle in single-family houses.
Now, of course, we are told, it's different . Yet over the past decade, vacancy rates rose the most in multi-unit housing, with an increase of 61%, rising from 10.7% in 2000 to 17.1% in 2010. The vacancy rate in detached housing also rose but at a slower rate, from 7.3% in 2000 to 10.7% in 2010, an increase of 48%. Attached housing – such as townhouses – posted the slightest increase in vacancies, from 8.4% in 2000 to 11.0% in 2010, an increase of 32%.
The attractiveness of rental apartments may soon be peaking just in time for late investors to take a nice haircut. Rising rents, a byproduct of speculative buying of apartments, already are making mortgage payments a more affordable option in such key markets as Atlanta, Chicago, Miami, Phoenix and Las Vegas.
Urbanist pundits often insist the rush to rental apartments will be sustained by demographic trends. One tired cliché suggest that empty nesters are chafing to leave their suburban homes to move into urban apartments. Yet, notes longtime senior housing consultant Joe Verdoon, both market analysis and the Census tells us the opposite: most older folks are either staying put, or, if they relocate, are moving further out from the urban core.
The two other major drivers of demographic change — the millennial generation and immigrants — also seem to prefer suburban, single-family houses. Immigrants have been heading to the suburbs for a generation, so much so that the most diverse neighborhoods in the country now tend to be not in the urban core but the periphery. This is particularly true in Sunbelt cities, where immigrant enclaves tend to be in suburban areas away frNinety-five million millennials will be entering the housing market in the next decade, and they will do much to shape the contours of the future housing market. Right now many millennials lack the wherewithal to either buy a house or pay the rent. But that doesn't mean they will be anxious to stay tenants in small places as they gain some income, marry, start a family and simply begin to yearn for a somewhat more private, less harried life.
In the meantime, many across the demographic spectrum are moving not away from but back to the house. One driver here is the shifting nature of households, which, for the first time in a century are actually getting larger. This is reflected in part by the growth of multi-generational households.
This is widely believed to be a temporary blip caused by the recession, which clearly is contributing to the trend. But the move toward multigenerational housing has been going on for almost three decades. After having fallen from 24 percent in 1940 to barely 12 percent in 1980, the percentage topped over 16 percent before the 2008 recession took hold. In 2009, according to Pew Research Center, a record 51.4 million Americans live in this kind of household.
Instead of fading into irrelevance, the single-family house seems to be accommodating more people than before. It is becoming, if you will, the modern equivalent of the farm homestead for the extended family, particularly in expensive markets such as California. This may be one of the reasons why suburbs — where more than half of owner-occupied homes are located — actually increased their share of growth in almost all American metropolitan areas through the last decade.
Some companies, such as Pulte Homes and Lennar, are betting that the multi-generational home — not the rental apartment — may well be the next big thing in housing. These firms report that demand for this kind of product is particularly strong among immigrants and their children.
Lennar has already developed models — complete with separate entrances and kitchens for kids or grandparents — in Phoenix, Bakersfield, the Inland Empire area east of Los Angeles and San Diego, and is planning to extend the concept to other markets. "This kind of housing solves a lot of problems," suggests Jeff Roos, Lennar's regional president for the western U.S. "People are looking at ways to pool their resources, provide independent living for seniors and keeping the family together."
But much of the growth for multigeneration homes will come from an already aging base of over 130 million existing homes. An increasing number of these appear to being expanded to accommodate additional family members as well as home offices. Home improvement companies like Lowe's and Home Depot already report a surge of sales servicing this market.
A top Home Depot manager in California traced the rising sales in part to the decision of people to invest their money in an asset that at least they and their family members can live in. "We are having a great year ," said the executive, who didn't have permission to speak for attribution. " I think people have decided that they cannot move so let's fix up what we have."
These trends suggest that the widely predicted demise of the American single family home may be widely overstated. Instead, particularly as the economy improves, we may be witnessing its resurgence, albeit in a somewhat different form. Rather than listen to the pundits, perhaps it would be better to follow what's before your eyes. Don't give up the house.
om the core.
Millennials, the generation born between 1983 and 2003, are often described by urban boosters as unwilling to live in their parent's suburban "McMansions." Yet according to a survey by Frank Magid and Associates, a large plurality define their "ideal place to live" when they get older to be in the suburbs, even more than their boomer parents.