El Sobrante: FBI raids real estate office
By Rick Hurd, Daniel Jimenez and Robert Rogers
Contra Costa Times
1/16/2013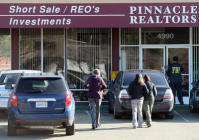 Federal agents gether in front of the office of Pinnacle Realtors in El Sobrante, Calif. on Wednesday, Jan. 16, 2013. (Kristopher Skinner/Staff)
EL SOBRANTE -- Federal agents raided an El Sobrante real estate office while executing a search warrant Wednesday, an FBI spokeswoman said.
The FBI arrived at Pinnacle Realtors at 4990 Appian Way sometime before noon, according to spokeswoman Julie Sohn. No other details were forthcoming because any comments might compromise an ongoing investigation, Sohn said.
Neighbors said at least 10 FBI agents removed various items, including computers, from the office for more than two hours. The business, which has a sign offering a 1 percent down payment, presumably on certain kinds of loans, has been in business for less than two years, according to neighbors.
According to the Pinnacle Realtors' website, the company is owned by Juan Mancheno and specializes in FHA financing for first-time buyers and other services. Mancheno declined to comment when reached by phone Wednesday.
The state's Department of Real Estate's database confirms that he is a licensed broker and that no disciplinary action ever has been taken against him.
In 2008, Kashmir Billon, a former business partner of Mancheno, was found shot to death in San Ramon. A loan officer for the pair's firm, Reginald James Robinson, was convicted of murder solicitation in 2011 in connection with the death and was sentenced to 11 years in prison.