El Sobrante neighborhood leaders vow to appeal housing development
By Robert Rogers
Contra Costa Times
11/26/2012
http://www.contracostatimes.com/ci_22068935/el-sobrante-neighborhood-leaders-vow-appeal-housing-development?IADID=Search-www.contracostatimes.com-www.contracostatimes.com
THESE PEOPLE ARE OPPOSING SINGLE FAMILY HOUSING WHICH COULD GENERATE NEEDED TAX REVENUE!!
NOTE BELOW WHERE THE TIMES' EVEN GIVES THE NAME OF THE GROUP AND HOW TO CONTACT THEM TO DONATE!!!!!!!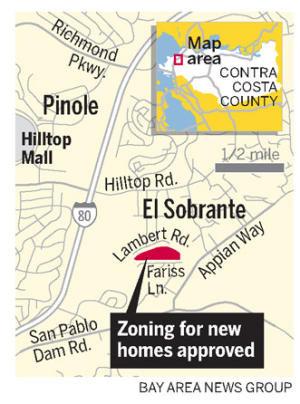 EL SOBRANTE -- Residents in the tight-knit neighborhood surrounding Fariss Lane and Lambert Road suffered a setback in their effort to thwart new housing construction, but they are not giving up their fight.
Contra Costa County Zoning Administrator Aruna Bhat on Nov. 19 approved a developer's plan to build 12 houses on a slope that neighbors regard as vital open space in their community.
The approval paves the way for more detailed plans for construction.
"This is the gateway approval," said Ann Del Tredici, a longtime resident and critic of the plan. "That's why (the decision) is such a big deal."
Del Tredici has gathered nearly 200 signatures opposing the development and has raised $1,475 since last week from 35 concerned neighbors to fight the plan. The money will be used for a $125 appeal fee, an attorney and a geological survey they hope will show that developing the slope, which ranges from 15 percent to 26 percent, is too risky.
"We need around $5,000," Del Tredici said.
They have until Nov. 29 to file an appeal, which would be heard sometime next year by the county Planning Commission.
Planning documents list Edgar Chang and Bakey Hsuan of C&H Development Inc. as the owners of the land, 6 acres of eucalyptus-lined slopes between Fariss Lane and Lambert Road. They could not be reached for comment.
The zoning administrator's report concluded that the land was suitable for development, noting that emergency vehicles will be able to access the site and the homes will have mandatory fire sprinklers.
The report notes that the dozen 6,000- to 14,000-square-foot parcels would be bolstered by retaining walls, along with drainage upgrades and road enhancements performed by the developer.
Opponents cite a host of quality-of-life concerns, including losing the undeveloped land, effects on wildlife and the danger of slides.
A key concern for residents is Fariss Lane, a narrow road abutting the proposed development. Fariss Lane is fed by
Garden Lane, and residents think new traffic could clog the narrow passageways, especially in the event of an emergency evacuation. There is only one route in and out of the proposed development.
But the county staff report says a traffic impact analysis has determined that the project is safe, and the development will include a new emergency vehicle access road.
None of that has assuaged residents' concerns, said Eleanor Loynd, co-chairwoman of the El Sobrante Valley Planning and Zoning Advisory Committee.
"Virtually everyone is opposed to the project," Loynd said.
While the outcome of an appeal won't come until next year, leaders in the quaint, hillside community vow to drum up a formidable opposition. Del Tredici said she has an email list of nearly 100 neighbors and a Facebook page for sharing information and sounding off about the perils of the project.
"Now it's time to start going door-to-door with fliers too," she said.
Contact Robert Rogers at 510-262-2725 or rrogers@bayareanewsgroup.com and follow at Twitter.com/roberthrogers .
TO LEARN MORE
The residents opposing the new development near Fariss Court in El Sobrante must file their appeal by Nov. 29. The cost is $125, and residents say they need about $5,000 to hire a lawyer and commission a geological assessment.
For more information or to donate, contact:
Ann M. Del Tredici
510-222-1391
anndt@aol.com
The residents have also created a Facebook group: "Respond to Fariss Court Development"