Jerry Brown campaign gets funds from casinos
http://www.sfgate.com/cgi-bin/article.cgi?f=/c/a/2009/12/02/BAK01ATEF3.DTL
Matier & Ross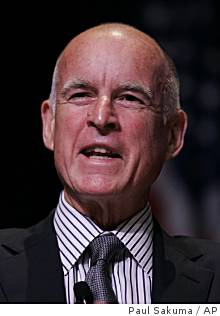 Wednesday, December 2, 2009
State Attorney General Jerry Brown is on a fundraising roll, having collected more than $1.65 million for his gubernatorial run in the past month - with more than $1 million coming from that big Hollywood fundraiser a couple of weeks back.
But it's not just the celebrity crowd cutting checks to Brown's gubernatorial campaign. Gambling interests that his office regulates are also major donors.
Among them: the California Commerce Club Casino, $25,000; El Dorado Enterprises (owner of the Hustler Casino in Gardena), $10,000; Hollywood Park Casino (Inglewood), $13,000; Bicycle Casino (Bell Gardens), $25,000; and the Sycuan Band of Kumeyaay Indians, $25,000.
Peter Morton, founder of the Hard Rock Casinos, also gave $51,000.
As for a possible conflict?
"If someone wants to make a specific allegation, they can make a specific allegation," Brown campaign spokesman Steven Glazer said. "But the office has enforcement powers over thousands of companies and millions of people ... and these contributions have no impact over the professionals running the office."
"He can say he's not influenced by contributions," countered Sherry Bebitch Jeffe, a senior scholar at USC's School of Policy, Planning and Development. "But whether it's true or not won't really matter. Whoever his opponent is in the general election will make a big deal out of it."
Boxscore: A new poll shows San Jose voters equally split over the idea of the Oakland A's relocating to their city.
The poll of 400 Santa Clara County voters found that the half living in San Jose were split, 45 to 44 percent, on whether they approve of the A's moving to town.
Countywide, support for the move was slightly better, 45 to 37 percent.
The survey was conducted Oct. 26 to 28 by Oregon pollster Rick Lindholm, who tells us he added the A's question to a broad survey of Santa Clara County opinion "to get a benchmark of what was going on."
The survey pretty much mirrors what the Giants, who are opposing the move, found in their polling - but sharply differs from what A's boosters in Santa Clara found in their survey.
A Giants poll of 528 county voters, including 275 from San Jose, conducted from April 21 to 27 found respondents leaning 2 to 1 against the move if it meant spending public money, and rating a new ballpark as dead last among seven possible spending priorities in the county.
"I think that's going to be a hard sale," said Giants pollster Peter Hart.
Santa Clara County Assessor Larry Stone, however, tells us his booster group's poll - taken three months ago - showed "surprisingly strong support" for the team moving, though he didn't provide details.
Whatever the case, we're told that San Jose officials have had two meetings with the Major League Baseball committee reviewing the A's possible move. At this point, that's probably the only group that counts.
Return to sender: Don't send Gov. Arnold Schwarzenegger anything at his home address in the Los Angeles enclave of Brentwood - unless you want it sent right back.
For security and privacy reasons, the governor has put a "do not deliver" stop on all mail to his home. Letters and packages posted to the house are returned to sender.
So when the Internal Revenue Service sent certified letters to Schwarzenegger's home - rather than to his business office - with questions about his household staff, the inquiries were promptly sent back unanswered.
Upshot: Arnold got hit with a $79,000 IRS lien, then was caught flat-footed when the celebrity gossip site TMZ.com publicized the matter over the Thanksgiving holiday.
The tax trouble was the latest in a string of gotchas that TMZ has posted on the governor and wife Maria Shriver recently - including one last week about Arnold parking in a red zone.
And finally: While the six young men accused of the gang rape of a 16-year-old girl outside Richmond High School's homecoming dance in October pleaded not guilty Tuesday, three bins at the police station across town continued to fill up with cards, presents and letters of support for the victim.
"It's been that way since the day it was first reported," said police Lt. Mark Gagan. "This is something that showed both the worst and the best of our society."
EXTRA! Catch our blog at www.sfgate.com/matier andross.
Chronicle columnists Phillip Matier and Andrew Ross appear Sundays, Mondays and Wednesdays. Phil can be seen on the KPIX morning and evening news. He can also be heard on KCBS radio Monday through Friday at 7:50 a.m. and 5:50 p.m. Got a tip? Call (415) 777-8815 or e-mail matierandross@sfchronicle.com.
Read more: http://www.sfgate.com/cgi-bin/article.cgi?f=/c/a/2009/12/02/BAK01ATEF3.DTL#ixzz0YZ0dYgUk

Read more: http://www.sfgate.com/cgi-bin/article.cgi?f=/c/a/2009/12/02/BAK01ATEF3.DTL#ixzz0YZ0Xn6Ii