How brutal murders and fear kept a town silent. MS-13 is like no other gang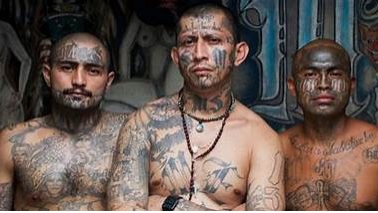 October 19, 2018 By Stephen Frank
The Central Valley town of Mendota is a headquarters for the MS-13—yet Jerry Brown and Gavin Newsom are working hard with their Sacramento Democrat colleagues to make sure this vile and violent gang is protected from ICE. Our Governor prefers to terrorist drug dealers, MS-13—all illegal aliens—to honest California citizens. In a real world, Brown would be charged as a co-conspirator for his use of government and law enforcement to protect criminals.
"Despite its international reputation for hacking up victims with machetes – sometimes brazenly leaving the bloodied, mangled corpses in the open – the street gang MS-13 slipped into Mendota relatively unnoticed.
Few people outside the rural town in California's Central Valley knew MS-13 had infiltrated the area at least a decade ago.
MS-13 carved out a reign of terror resulting in at least 14 brutal murders in and around Mendota from 2015 to 2017. There was little or no media coverage on some of the murders, some of which had been initially labeled as suspicious deaths."
Jerry Brown has been the most pro-crime Governor in American history—tens of thousands released from prison, several thousand sexual predators will be released from prison and up to 4,000 prisoners in jail for their Third Strike, are about to be released. Now he is protecting terrorists—MS-13. Note the media says nothing.
ms13-in-prison
How brutal murders and fear kept a town silent. MS-13 is like no other gang
By Yesenia Amaro, Fresno Bee, 10/17/18
Despite its international reputation for hacking up victims with machetes – sometimes brazenly leaving the bloodied, mangled corpses in the open – the street gang MS-13 slipped into Mendota relatively unnoticed.
Few people outside the rural town in California's Central Valley knew MS-13 had infiltrated the area at least a decade ago.
MS-13 carved out a reign of terror resulting in at least 14 brutal murders in and around Mendota from 2015 to 2017. There was little or no media coverage on some of the murders, some of which had been initially labeled as suspicious deaths.
Arrests in the string of murders were absent, except in two killings.
The gang is also known for extortion, kidnapping and drug trafficking, among a deluge of crimes.
That's kept nearly everyone quiet, including city leaders, who failed to sound the alarm, say residents, victims' relatives and former city elected officials.
Since an August operation led by federal and local agents that netted 25 alleged MS-13 members, more details about the gang's local operations have come to light, through court records and dozens of interviews with cops and affected residents.
It paints a clearer picture of how ruthless MS-13 can be, and why Mendota residents still live in fear.
Mendota, roughly 30 miles west of Fresno, has historically been an impoverished agricultural town, with a population that fluctuates depending on the seasons. It's had a steady 2015-17 population of 11,561.
The August operation came following 14 unsolved murders in and around Mendota, crimes law enforcement believe are connected to MS-13.
By comparison, Clovis, with a considerably more affluent population nearly 10 times larger at 107,903, had just three murders during 2015-17.
Living on edge
Law enforcement in August said its operation "completely dismantled" MS-13 in Mendota. Residents don't believe that.
"There is a lot of fear. A lot of people are afraid to acknowledge the element" says Joseph Riofrio, a former Mendota City Council member.
"We have a community that's reluctant to be a witness. We had a body count and nobody was talking about it. Maybe the city itself didn't ring the bell loud enough."
Case in point, Mendota Mayor Rolando Castro declined to comment for this story, citing fears for himself and his family. Other residents spoke on condition of anonymity, citing fear of gang reprisals.
Mendota Police Chief Gregg L. Andreotti acknowledged some in the community remain intimidated. But he said the recent operation will bring comfort for "those in the community who were in fear."
"This is a strong peace of mind for the town," he says. "Did it clean up the city 100 percent? No. The job will be to pay attention to what's going on, (and) look at new people, in making sure that it doesn't get to the same level it was before."
Legacy of brutality
Jannette Maya, 29, grapples daily with the violent death of her sister Joanna Solorio Maya. Jannette says her sister's case is messy, but she knows there's a connection to MS-13.
She struggles with depression as she wakes up knowing she'll never see her sister again.
Joanna's nickname was "Monkey" because she had a particular love for primates.
Jannette on a recent morning pressed on the stomach of a stuffed monkey, and a recorded message from her sister played: "Hey, I just want to say happy birthday, OK, bye."
That's all she has left from Joanna. "She was everything," Jannette says, wiping away tears. "I just felt that when they took her, they just took me with her. Her death has been really, really hard."
Joanna was hacked to death July 13, 2016, her body found outside the Garden Apartment Complex in Mendota. She was killed before she could take the witness stand in a murder case. "You don't expect something like that to happen in a small community because everyone knows everybody… especially the way they are killing people out there, like they are animals," Jannette says.
Information obtained by The Bee through a Public Records Act request confirmed Joanna's homicide is one of the 14 murders directly connected to MS-13 and the ongoing state and federal investigation.
Fresno County Sheriff's Detective Adam Maldonado, who has been investigating Joanna's murder, said no arrests have been made for the killing.
However, there's a "possible suspect" who may be connected to Joanna's case. That person was arrested during the August operation on other charges. Maldonado wasn't able to specify the suspect's name or charges he was arrested on.
The Sheriff's Office only released limited information to The Bee on each of the murders linked to MS-13.
It didn't provide detailed reports on the killings as that could "jeopardize" ongoing investigations.
With that information, The Bee was able to identify most of the victims connected to MS-13 including Christine Echeverria, 35, and Angel Sanchez, 25.
Both died as a result of gunshots. Four MS-13 members allegedly behind their killings are Jose Santos Hernandez Otero, Armando Jose Torres Garcia, Jose Joaquin Amaya Orellana and Julio Cesar Soto Recinos, according to an affidavit filed in court by the Sheriff's Office.
A search warrant for Recinos led detectives to a self-identified MS-13 member, Jonny Alexy Calderon Aguilar, who denied knowing Recinos. Though, "Aguilar was later brutally murdered by machete attack," according to the affidavit.
Aguilar's body was found Feb. 4 last year at the Mendota Wildlife Refuge.
"MS-13 has zero tolerance for members and associates who cooperate with law enforcement," court documents show. If the gang finds a member to "allegedly or actually" have cooperated with police, "that person is to be killed on sight."
Otero, Garcia, Orellana and Recinos all fled Mendota and haven't been found.
Four of the 14 victims linked to MS-13 were women, ten were men. All were Hispanic except for one victim who was white, a woman named Marty Sepe, 46, killed Dec. 1, 2016.
Sepe was found with several gunshot wounds on a sidewalk between Stamoules and 6th streets in Mendota.
Three MS-13 members in 2017 were sentenced for her killing.
Earlier this year, arrests were made in the murder of a victim only identified as "A.R.", kidnapped and murdered Dec. 18, 2017, according to a recently unsealed federal indictment for MS-13 members Israel Rivas Gomez and an unidentified suspect. Gomez and the unidentified suspect allegedly killed the victim for the purpose of gaining "entrance" to and "increasing position in MS-13."
Locals identified a victim as Abel Rodriguez, but the Department of Justice wasn't able to provide information beyond what's on the public document. Some of the other victims include Jose Delcid Escalante, 19, of Mendota, Yonnathan Ishmael Orellana Guardado, 19, of Southern California, and Hector Steve Lemus, 37, also of Southern California.
Fresno County Sheriff's spokesman Tony Botti said officials are still piecing together information from August's operation and the Mendota-area killings. Aside from 25 alleged MS-13 members arrested in that operation, another 19 arrests were carried out previously, Botti said. The Sheriff's Office estimates that about 95 percent of those 19 remain in custody in various places.
Death, guns, and extortion, from Mendota to Los Angeles
Officials are trying to determine how those 44 arrested individuals are tied to each case plus murders in other parts of the state and nation.
Some of the MS-13 members are allegedly tied to a murder in Los Angeles carried out just a month before the Mendota crackdown.
At the orders of an MS-13 member who's in custody, six alleged MS-13 members from Mendota traveled to Los Angeles this summer to "re-establish MS-13 control over MacArthur Park through violence," a wiretap investigation revealed.
"The taking back of MacArthur Park for the MS-13 gang would allow MS-13 to once again collect extortion money and narcotics proceeds."
On a separate trip to Los Angeles on July 18, five Mendota MS-13 members allegedly "confronted a suspected rival gang member in MacArthur Park," and lured the male to join them at the beach where they would enjoy drugs and girls. Though, they intended to kill the victim "as that is what MS-13 members are required to do to rivals."
After failed attempts to kill the victim, identified as Brian Marroquin, by stabbing because he was resisting, one of the MS-13 members allegedly pulled a gun and shot the victim in the head before throwing his body in a rural area of Los Angeles, according to court documents.
One of the alleged MS-13 members, Jefferson Oswaldo Guevarra, then used Facebook to reach MS-13 leader Denis Barrera-Palma in Mendota to inform him of the murder, as the gun used for the killing had been purchased from Barrera-Palma for $100.
MS-13 was also involved in a violet assault this summer at MacArthur Park. Lemus, one of the 14 victims in and around Mendota, was last seen at MacArthur Park in 2015.
It's unknown how much money MS-13 had extorted from business owners near the MacArthur Park in the past.
But extortion letters alleged to be from MS-13 were also sent to business owners in Mendota in 2016, although Andreotti said his police department was never able to determine who was really behind the letters and their legitimacy.
Duration 3:29
MS-13: The homegrown gang Trump wants to deport
President Trump has used MS-13 to justify hardline immigration policies. But the gang he's trying to root out was born right here in the United States.
By New York Times
MS-13 will rise again in Mendota, residents say
MS-13 first emerged in the 1980s in Los Angeles and its members are from El Salvador, Honduras, Guatemala and other parts of Central and South America.
Mendota was primarily a Mexican community, but in recent years it became heavily populated by Salvadorans.
A 73-year-old longtime Mendota resident, who asked not to be identified out of fear, said the rural city's even earned the nickname "La Colonia Salvadorena," which translates to "the Salvadorian town."
"They have family here," he said of MS-13, in Spanish. "Some of them came here from Los Angeles. It's a very big cell and the government can't get rid of it. They can make more trips (to Mendota) and they won't get rid of them."
Robert Silva, a Mendota City Councilman, said Mendota has always had people coming and going, given its agricultural history.
That changed recently with the current immigration climate.
"A lot of people are not going back like they used to. A lot of people are staying in Mendota," he said. "There's a lot of good people who are coming from various parts. (But) there's always some people that mess things up for everybody."
Riofrio recalls seeing an MS-13 tag on the back of a stop sign on the corner of 7th and Stamoules streets at least 10 years ago. Some of the murders linked to MS-13 have taken place on Stamoules Street.
That's when problems began to happen, though violence escalated and murders became more frequent beginning in 2015. Botti said the Sheriff's Office had its first record of MS-13 in Mendota in late 2008 – "a little before 2009."
"You just didn't want to believe it," Riofrio said. "We've gotten used to living in a certain way. We know that there's been 14 murders. But we rationalized that it's them killing their own people. They are not killing the good people."
Sergio Valdez, a former Mendota City Councilman, said since the 2016 extortion letters were sent out to businesses, agencies were brought in to investigate.
"I knew (MS-13) was here, but at that time I don't think it was that big," he said.
About four years ago, the city was getting around $160,000 from a refund, and and few council members wanted to use the money to hire two gang officers, but the City Council shut down the idea.
"At the end, it's all about money," he said. "It wasn't worth it. You can't start the ball rolling and stop it."
The recent operation will hopefully put notice out to MS-13 "that they are being watched now," Valdez said.
Local gangs are subsets of larger MS-13 organization
According to the Sheriff's Office affidavit, street gangs known as Vatos Locos Salatruchos (VLS) as well as Park View Locos (PVLS) are primarily located in Mendota, and they are subsets of the larger MS-13 transnational criminal organization.
"VLS and PVLS align and associate with one another and, in view of that, these two cliques can be observed together as the MS-13 gang members in Mendota," the document says. "The MS-13 in Mendota identify with the color blue and claim the number 13."
Another Mendota resident, who didn't want to be identified also due to fear, said people are afraid to speak up, given the high number of recent killings.
Some local relatives of the victims have even left the U.S. out of fear they could be next.
"Mendota is a bomb about to explode," she said. The woman has now even moved a garden of roses inside her house to be able to water them, and installed cameras outside her home. "You fear for your life."
Some residents say the situation has calmed down following the recent operation, but they fear it won't be long before MS-13 makes a comeback.
"Let the situation cool down, and once it starts to cool, it will get worse," the woman said.
Jannette Maya and others say MS-13 and its violence is not over.
"It's just going to get worse. They just pissed them off," Maya said. "I don't think the law can do anything to stop them. They can control (the gang) a little bit, but they can't stop it."
Some residents claim the operation did not remove all of the gang's local leadership. Chief Andreotti acknowledged there are still MS-13 affiliates in Mendota.
"There are still people who are affiliated who were not arrested because there was not enough evidence," he said.
Law enforcement officials haven't disclosed a total number of people in western Fresno County who've been identified as MS-13.
Andreotti said keeping an eye on the situation will be a challenge and will require "being conscious of what's around you."
The community, he said, will need to take "ownership."
"We have to be partners," he said.
Riofrio, who is running for City Council, said this situation "isn't put to bed."
"There's a lot of moving pieces to it," he said. "It's not a quick fix."
Mendota will have to rebuild its image as a safe and hardworking town – and not a "community of thugs," Riofrio said.
"The good has to come from the top, not the fear and evil – we can't let that win," he said. "We can't be living that way."
How we reported this story
The reporter conducted more than a dozen interviews with local residents and law enforcement officials.
Documents such as newly unsealed indictments, official complaints, an affidavit, and declaration of support of warrant of arrests for MS-13 members were obtained from the California Department of Justice and the Fresno County Superior Court and reviewed.
Mendota City Council meeting minutes were also reviewed.
Law enforcement officials wouldn't confirm if certain cases were connected to MS-13. The reporter submitted a Public Records Act request to the Fresno County Sheriff's Office to get information about the 14 murders in and around Mendota connected to MS-13. No detailed reports were released as it could jeopardize ongoing state and federal investigations.
Court documents, interviews with locals and victims' relatives, as well as media reports were used to match victims' ages, date of murder and location.

RELATED: What you need to know about the violent animals of MS-13