SunPower: Twice As Bad As Solyndra, Twice As Bad For Obama
Congressman's (GEORGE MILLER) son lobbied for failing solar panel company
"Two men with insight into the process are SunPower rooter Rep. George R. Miller III, (D.-Calif.), the senior Democrat on the House Education and Workforce Committee and the co-chairman of the Democratic Steering and Policy Committee, and his SunPower lobbyist son, George Miller IV."

http://www.humanevents.com/article.php?id=46761
by Neil W. McCabe
10/11/2011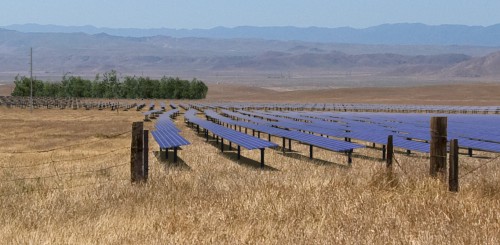 A photovoltaic solar panel ranch similar to the California Solar Valley Ranch under construction by SunPower in the state's San Luis Obispo County. The $1.2 billion loan guarantee to support the project was finalized in hours before the loan program expired Sept. 30. The company announced Aug. 5 that it will build the panels for the ranch at a new factory it will open in Mexico. - DOE photo
How did a failing California solar company, buffeted by short sellers and shareholder lawsuits, receive a $1.2 billion federal loan guarantee for a photovoltaic electricity ranch project­three weeks after it announced it was building new manufacturing plant in Mexicali, Mexico, to build the panels for the project.

The company, SunPower (SPWR-NASDAQ), now carries $820 million in debt, an amount $20 million greater than its market capitalization. If SunPower was a bank, the feds would shut it down. Instead, it received a lifeline twice the size of the money sent down the Solyndra drain.

Two men with insight into the process are SunPower rooter Rep. George R. Miller III, (D.-Calif.), the senior Democrat on the House Education and Workforce Committee and the co-chairman of the Democratic Steering and Policy Committee, and his SunPower lobbyist son, George Miller IV.

Miller the Elder is a strong advocate for SunPower, which converted an old Richmond, Calif., Ford plant in his district to a panel-manufacturing facility.

The congressman hosted an Oct. 14, 2010, tour of the plant with company CEO Thomas H. Werner and Interior Secretary Kenneth L. Salazar to promote the company's fortunes.

"The path to a clean energy economy starts here, in places like SunPower's research and development facility," said Salazar during the tour.

"The work that comes from these facilities transforms renewable energy ideas into a reality. When renewable energy companies continue to invest in places like California, the realization of a new energy future is within our reach," he said.

Miller the Elder said he was grateful for Salazar's interest.

"We've worked hard to make renewable energy a priority because it represents America's future economic growth. Today, businesses like SunPower are moving forward, hiring 200 people for good clean energy jobs in the East Bay," he said.

"By fostering a business climate that encourages companies like SunPower, even more good jobs will be created locally, we'll reduce demand for dirty energy sources, and we'll cut customers' utility bills. That's the right direction," he said.

SunPower's political action committee (PAC) was not shy about participating in the political process either.

According to the SunPower PAC filings for its activities in the 2010 midterm election campaign cycle, it donated more than $36,000. Of the $15,650 donated to House and Senate candidates, $14,650 went to Democrats, with these top recipients: $4,000 to Sen. Harry Reid (D.-Nev.), $3,000 to Rep. Gabrielle Gifford (D.-Ariz.) and $2,900 Sen. Barbara Boxer (D.-Calif.).

The congressman was not forgotten either. The SunPower PAC remembered him with $500 for his 2010 campaign. While SunPower was a financial partner in the congressman's reelection campaign, it straight-out hired his son.

Miller the Younger is not registered to lobby in Washington, but he is a member of its bar. He is not a member of the California bar, home of his lobbying firm, Lang, Hansen, O'Malley and Miller (LHOM), of which he is a founding partner.

According the firm's website LHOM specializes in providing advice to clients on larger macro political issues trends. "Utilizing our broad experience in California and Washington, D.C., we can furnish 'big picture' analysis of developing political and policy trends which may affect client interests and goals."

What does Miller the Younger bring? Read here: "George Miller brings a lifetime of friendships, relationships, and contacts together with over 15 years of front-line advocacy experience. He's an attorney with expertise that ranges from insurance and banking to transportation, taxation and gaming law," according to the website. "Unlike most advocates, George is at ease working both the corridors of Sacramento power or the halls of Congress."

What is the stated purpose of the SunPower's DOE 1705 program loan guarantee?

SunPower has different lines of business. In addition to manufacturing solar panel and roof tiles, it builds solar panel ranches, which it then sells off, but retains the services contract.

The loan guarantee is earmarked for the job numbers for the California Valley Solar Ranch (CVSR) in San Luis Obispo County, which it has already sold to NRG Solar, but will continue to maintain.

According to the Department of Energy (DOE) website, the CVSR project will create 350 construction jobs during the two-year build and 15 permanent jobs­presumably those are the squeegee men for keeping the panels clean.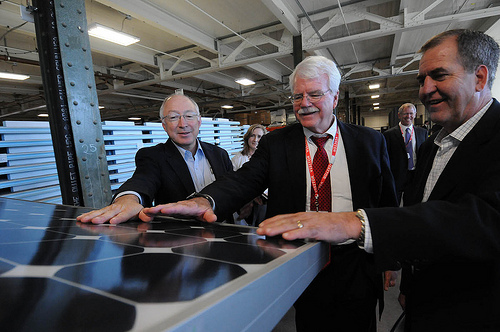 Capitol Hill powerbroker Rep. George Miller (D.-Calif.), center, hosted Interior Sec. Kenneth L. Salazar, left, on an Oct. 14, 2010 tour of SunPower's Richmond, Calif., plant. During the tour, Salazar said plants like SunPower's transform renewable energy ideas into reality. One month later, the company announced it had restated its 2008 and 2009 financial filings to correct for unsubstantiated accounting entries. - [DOI photo by Tami Heilemann]
If $80 million per permanent job seems a little high, even for the current Obama administration, you are correct. In addition to the 350 construction jobs and the 15 squeegee men, there will an as-yet-undetermined number of jobs created building the panels for the CVSR­in Mexicali, Mexico.

The company is looking for a facility of up to 320,000 square feet, where it will build three different solar panel models and its solar roof tiles, according the company's Aug. 5 statement.

Marty T. Neese, the company's chief operating officer, said, "Establishing our own manufacturing facility in Mexicali means we will be positioned to quickly deliver our high-efficiency, high-reliability solar products to a growing North American solar market."

Mexicali Mayor Francisco Perez Tejada Padilla said he was thrilled. "Mexicali is rapidly becoming an industrial hub for high-tech companies, offering an educated workforce and a growing manufacturing area," he said. "We welcome SunPower to our city and are pleased that they have chosen Mexicali to establish its solar panel manufacturing facility."

The good news for Mexican jobs seekers did not affect the DOE's loan guarantee to SunPower. Hours before the DOE 1705 loan program expired at the end of Fiscal Year 2011 on Sept. 30, the $1.2 billion in loan guarantees was approved for the company.

Insiders get liquid through $1.4 billion friendly buyout from France.

If that timing seems odd to you, consider the time line of company events around when the loan was announced April 12: just two weeks before France's Total Oil (TOT-NYSE) launched its friendly takeover.

The deal, made public April 28, was in effect a 60% buyout at $23.25, then a 60% premium over the stock's current trading price, which allowed insiders to get liquid.

SunPower CEO Werner is typical of the insiders. On May 24 he exercised his right to purchase 428,343 shares at $3.30 per share, a $18 discount from the day's trading range. He sold 478,084 shares June 15, the day the Total Oil takeover closed, at $23.25 for proceeds of $11,115,453.

Remember, Total Oil was offering at $23.25 per share in what was in effect a private sale. The SPWR, Class A or B, shares have not traded above $23 since June 10, 2010.

SunPower is a company in trouble.

In his Sept. 26 column for SeekingAlpha.com, Stoyan Elitzen lists SunPower as the ninth-most-shorted solar stock in either the New York Stock Exchange or NASDAQ markets. Short sellers are betting that a stock price will go down, as opposed to those who buy long, who expect a stock price to up.

According the Elitzen, the size of SunPower's short position is equal to 15 days of its average daily volume of 725,000 shares per day. By any measure, such pessimism is a banshee screaming in the night for a company's stock price that has already lost 94% of value from its 2007 apex.

Although its stock has recovered from its all-time low Oct. 4 of $6.60 per share to trade between $8 and $9 per share, it has been a steep slide from its all-time high Dec. 3, 2007 of $133. Then, the company was worth $13 billion.

Today, its market capitalization is $800 million, just short of its debt of $820 billion, according to the company's July filings for the second quarter.
The Oct. 4 sell-off, which gave shareholders a 12% haircut, was triggered by the company's Oct. 3 aftermarket statement announcing the company was paying down its $50 million credit line with a consortium of European banks and opening a new $200 million credit line with Deutsche Bank.
According to the statement, Dennis V. Arriola, the company's chief financial officer said the new credit line will improve the company's ability to operate.

"However, the challenging market conditions continue to impact our global residential and commercial business. As a result, we will revise our 2011 revenue and earnings outlook on our third-quarter earnings conference call to be held on Nov. 3," he said.

As much as Arriola's negative guidance shook up the markets, it also reflects a lesson learned.

In addition to all its other challenges, the company and its officers are defendants in a federal shareholder lawsuit, whose plaintiffs include, the Austin (Texas) Police Retirement System, the Arkansas Teachers Retirement System and a number of institutional investors for an alleged scheme to deceive the investing public by making false statements contrary to nonpublic information known to the insiders.

The allegations cover the period between April 17, 2008, to Nov. 16, 2009, the day the company announced that it had discovered unsubstantiated accounting entries to its operations in the Philippines, which led to the significant restating of the company's financials.

There are a number of lawsuits filed in California courts relating to the same period alleging gross mismanagement, breach of fiduciary responsibility, unjust enrichment and abuse of control.

The first of the lawsuits was filed Nov. 18, 2009, and they have yet to be resolved.

It is a fair question to ask how a company with such serious charges lodged against its management team could receive a $1.2 billion loan guarantee from the taxpayers, so it could built a new manufacturing plant in Mexico to build the solar panels it will install at a photovoltaic ranch that will create a total of 15 permanent jobs.