Police Destroy Organic Farm in Massive SWAT Team Raid
The assault is the latest example of police using military tactics against American civilians, often for no reason at all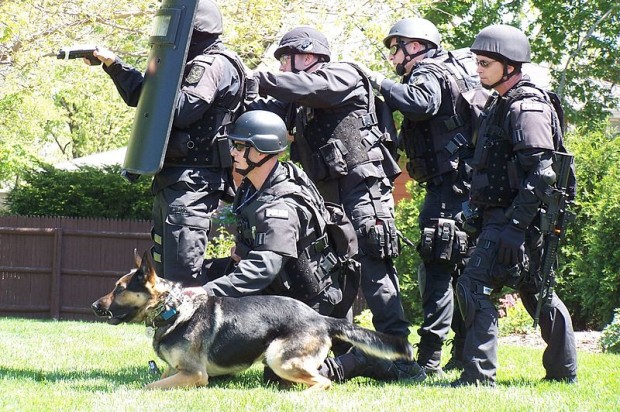 August 16, 2013 |
http://www.alternet.org/activism/police-destroy-organic-farm-massive-swat-team-raid?akid=10816.1123524.DNnL8C&rd=1&src=newsletter883812&t=2
"...a SWAT team was brought in to serve an administrative warrant." <<<OVERKILL

The police raid of a small organic farm in Arlington, Texas, which lasted for more than 10 hours and included aerial surveillance and a SWAT team, resulted in a confiscation of vegetables and plants on the property only, Huff Post reported.
Owners of the property called "Garden of Eden" are now demanding an apology from police and compensation for what was taken from them including 17 blackberry bushes, 15 okra plants, 14 tomatillo plants, native grasses and sunflowers, after police were granted a search warrant for marijuana plants. Ironically, no evidence of marijuana was found on the property.
The raid resulted in all adults being handcuffed and the residents held inside at gunpoint for at least half an hour, according to owner Shellie Smith:
"They came here under the guise that we were doing a drug trafficking, marijuana-growing operation…They destroyed everything," she told WFAA.
"There were sunflowers for our bees and gifting. Lots of okra, and we had a sweet potato patch that they whacked down with a Weed-Eater…The weeds that we used to shade our crops are also gone", she said.
Moreover, Smith claims that police failed to show a warrant until two hours after the raid began and hid their nametags to avoid identification. (THE POLICE DON"T WANT YOU TO KNOW WHO THE INDIVIDUALS ARE THAT ARE DOING THIS STUFF)
City of Arlington, spokeswoman Sana Syden said the Garden of Eden had been cited for numerous violations and a number of complaints by neighbors that marijuana was being grown on the property. However, no such plants were found.
The case illustrates another example of the increasing use of para-military police raids using SWAT teams as routine police work – in many cases where there is no justifiable threat to officer safety.
According to CATO's Radley Balko, there are approximately 40,000 raids per year which involve subjecting non-violent drug offenders and innocent bystanders to police terror by wrongfully having their homes invaded by police dressed as soldiers which at times can result in unnecessary death and injuries.
Only last week a SWAT team was brought in to serve an administrative warrant. Moreover, in recent times the use of SWAT teams has proliferated with their use in a string of cases from performing regulatory alcohol inspections, raiding bars for underage drinking and performing licensing inspections at barbershops.
Jodie Gummow is a freelance journalist and human rights activist.
64 COMMENTS 64 COMMENTS