BUDGET CRISIS
States declare bankruptcy in 2011?
http://redalert.wnd.com/index.php?fa=PAGE.view&pageId=2531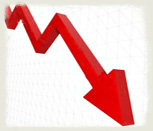 Insolvency talks underway with Obama administration
The most important question for 2011 may be just emerging on the national policy scene: How many states will declare bankruptcy this year?
It would be a first-time ever event, but the New York Times has already reported that state policy makers, congressional leaders and officials in the Obama administration are already involved in behind-the-scenes discussions regarding whether declaring bankruptcy may be the only solution available to states with budget crises that cannot be resolved any other way.
"Beyond their short-term budget gaps, some states have deep structural problems, like insolvent pension funds, that are diverting money from essential public services like education and health care," Mary Williams Walsh wrote in the Times. "Some members of Congress fear that it is just a matter of time before a state seeks a bailout, says bankruptcy lawyers who have been consulted by congressional aides."
Still, it is doubtful the federal government will bail out near-bankrupt states, despite the severe cutbacks in public welfare services the state budgetary crises are causing.
Federal bailouts of the states would amount to nationalizing the states and could produce a constitutional crisis, especially if the federal government assumes as it usually assumes that the federal government has a right to control whatever the federal government pays for.
By pursuing bankruptcy, a state could seek to get out of contractual agreements to pay public employee pensions the state may no longer be able to afford.
"Bankruptcy could permit a state to alter its contractual promises to retirees, which are often protected by state constitutions, and it could provide an alternative to a no-strings bailout," Walsh noted.
Inevitably, states declaring bankruptcy could send major shocks through the municipal bond markets, with the unfortunate result that borrowing costs for all state and local governments may escalate dramatically.
The problem is that state governments, unlike the federal government, cannot simply print money.
New Jersey public employee crisis
In December, the State of New Jersey disclosed that the unfunded pension liability for state government employees grew from $45.8 billion to $53.9 billion in 2009, an increase of 18 percent.
New Jersey public employee pension funds currently cover some 800,000 workers in seven different pension funds covering a wide range of government employees, including teachers, police officers, firefighters, judges and bureaucrats.
The Philadelphia Inquirer reported that New Jersey residents have the largest unfunded pension liabilities in the nation.
New Jersey pension funds now have only 62 percent of the funds necessary to pay future promised obligations, down from 66 percent the year before.
To put this in perspective, pension experts generally recommend that state pensions should be funded to at least 80 percent of their current and future obligations.
New Jersey also has an unfunded obligation of $66.8 billion for health-care costs, in addition to the $53.9 billion unfunded pension liability.
Again, to put this in perspective, the entire state budget for New Jersey this year is $29.4 billion.
Gov. Christie recommended a wide range of changes for New Jersey public employment pensions, including rolling back benefits by as much as 9 percent, increasing the retirement age for teachers from 62 to 65, and requiring all state employees to contribute 8.5 percent of their salaries to the state pension system, instead of the 3 percent some public employees now pay.
Still, even these changes might not be enough to make a meaningful dent on the state's unfunded pension obligations.
State budget crisis faces nation in 2011
Last October, the Center on Budget and Policy Priorities reported that to balance their 2011 budgets, states had to address fiscal year 2011 gaps totaling an estimated $125 billion, or 19 percent of budgets in 46 states.
State tax revenues were 8.4 percent lower in fiscal year 2009 than in 2008, and an additional 3.1 percent lower in 2010, reflecting the worst recession since the 1930s.
"States will continue to struggle to find the revenue needed to support critical public services for a number of years, threatening hundreds of thousands of jobs," the Center reported.
The Center sees no diminishment in budget problems in 2012.
Already 39 states have projected budget gaps that are expected to total $112 billion for fiscal year 2012, a budget gap that is expected to grow to approximately $140 billion once all states have submitted their 2010 estimates. Even worse, the federal aid to the states provided by the February 2009 American Recovery and Reinvestment Act and to a smaller extent in the August 2010 jobs bill, estimated at $60 billion in 2011, is expected to decline to $6 billion in 2012.
"Taking all these factors into account, it is reasonable to expect that for 2012, shortfalls are likely to exceed $140 billion with only $6 billion in federal Recovery Act dollars remaining available," the report concluded.
01/24/11