Russia Tests Hypersonic "Avangard" State Of The Art Projectile; And Nuclear Capable Underwater Drone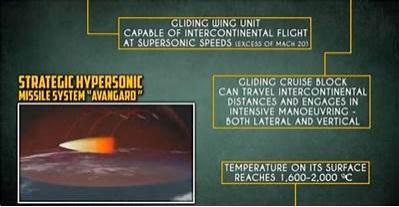 December 28, 2018
By Aaron Kesel
https://www.activistpost.com/2018/12/russia-tests-hypersonic-avangard-state-of-the-art-projectile-and-nuclear-capable-underwater-drone.html
Russia has tested its hypersonic weapons that Activist Post reported Putin had teased just last week. The hypersonic weapon's name is Avangard, a state-of-the-art hypersonic projectile, that can travel at more than 30,000km/h, according to Russia's Deputy Prime Minister Yuri Borisov, RT reported.
Borisov told Rossiya 24 TV channel that the test of the weapon proved the hypersonic glider can travel an incredible speed at Mach 27, stating no known weapon can intercept it from hitting its target.
"There's almost no missile that can shoot it down at such speeds," Borisov said. He added, "Any missile defense becomes useless, it is very tough to detect and hit the projectile."
For those unfamiliar with aeronautical terms, Mach 27 means that the missile is 27 times the speed of sound. Russian President Vladimir Putin compared the missile to a "meteorite," Sky News reported.
"It heads to target like a meteorite, like a fireball." Putin said.
The Avangard was launched from southwest Russia and successfully hit and destroyed a target 3,700 miles (5,954km) away in the country's far east, Putin said.
That's not the only weapon that Russia tested; they also ran a test of a Poseidon nuclear-capable strategic drone underwater, TASS reported.
This comes after Russia ran a drill flying two of its nuclear-capable strategic Tu-160 bombers over the Caribbean Sea during a 10-hour training mission last week, WSBTV reported.
It's also further worth noting that Putin recently stated that the threat of nuclear war should not be underestimated as tensions have risen between NATO countries and Russia within the past few months. Putin added that U.S. withdrawal from the treaty could spur "global catastrophe" and that he hopes "common sense will prevail."
YOU TUBE VIDEO OF ROCKET LAUNCH
In combination with the socialist nation of Venezuela, which also has sanctions against it by the U.S. government, Russia plans to build a base and a military presence presumably in response to the U.S. suggesting it will pull out of the INF treaty in La Orchila, Venezuela according to TASS.
According to military envoys, Russian authorities have made a decision (and Venezuelan President Nicolas Maduro did not object) to deploy strategic aircraft to one of Venezuela's islands in the Caribbean Sea, which has a naval base and a military airfield. Ten years ago, Russian experts and Armed Forces commanders had already visited the island of La Orchila, located 200 kilometers northeast of Caracas. Venezuelan laws prohibit the setup of military bases in the country, but a temporary deployment of warplanes is possible.

"It is the right idea to include Venezuela in long-range aviation missions," military expert Colonel Shamil Gareyev told the newspaper, adding that it was also economically reasonable. "Our strategic bombers will not only not have to return to Russia every time, but also won't perform aerial refueling while on a patrol mission in the Americas. Our Tu-160 aircraft arrive to their base in Venezuela, conduct flights, execute their missions and are then replaced on a rotating basis. This is how it should be done," he said.

Colonel Eduard Rodyukov, a Corresponding Member of the Academy of Military Sciences, in turn, told Nezavisimaya Gazeta that "the arrival of Russia's Tu-160 strategic bombers to Central America is kind of a signal to Trump to make him realize that abandoning nuclear disarmament treaties will have a boomerang effect."
U.S. Secretary of State Mike Pompeo responded in an angry rant by stating the drills were a waste of public funds. "Russia's government has sent bombers halfway around the world to Venezuela," Pompeo said on Twitter. "The Russian and Venezuelan people should see this for what it is: two corrupt governments squandering public funds, and squelching liberty and freedom while their people suffer."
The U.S. recently gave Russia 60 days to comply with a treaty banning the development of intermediate range nuclear missiles. Putin denied the U.S. claim that Russia has developed a new cruise missile in violation of 1987 Intermediate-range Nuclear Forces (INF) Treaty, which banned land-based nuclear missiles in Europe during the Cold War.
These moves by Russia risk reigniting the Cold War or an even worse full-fledged war which could turn nuclear as Putin suggested and cautioned should not be taken off the table altogether. While these geopolitical actions can only be perceived, they are in response to the U.S.'s threat to scrap the INF treaty.
Aaron Kesel writes for Activist Post. Support us at Patreon. Follow us on Minds, Steemit, SoMee, BitChute, Facebook and Twitter. Ready for solutions? Subscribe to our premium newsletter Counter Markets.